SDG 6 Special Event during High-level Political Forum on Sustainable Development 2022
21 June 2022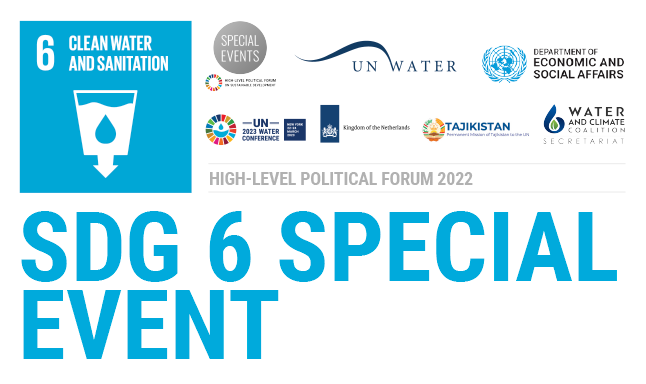 On 13 July 2022, a SDG 6 Special Event will be hosted during the High-level Political Forum on Sustainable Development 2022 at the headquarters of the United Nations in New York.
A few months later, March 2023, the international community will gather in New York for the most important water conference in a generation: the UN 2023 Water Conference. The co-hosts of the Conference, Tajikistan and the Netherlands, strive to make it a watershed moment for the world.
In the lead up to next year's historic Conference, the SDG6 Special Event aims to showcase how the UN-Water family is prepared to support countries to meet their water and sanitation objectives. Acceleration and preparatory events in the context of the Conference will be presented during this Special Event.
The SDG 6 Special Event is co-hosted by the Chair of UN-Water, Mr. Gilbert F. Houngbo and the Secretary-General of the UN 2023 Water Conference, USG Mr. Liu Zhenmin.
In conjunction with the Special Event, a virtual dialogue will also be hosted. The virtual dialogue among technical experts will focus on the Water Action Agenda voluntary commitments and country level accelerations.
SDG 6 Special Event
SDG 6 Special Event Virtual Dialogue
Contact Us
For media and interview requests, contact us on: unwater@un.org mentioning [Media request] in the subject heading.
News and Media
Get the latest news from UN-Water; Understand what is happening around the 2030 Agenda for Sustainable Development; Interact in our campaigns; Explore newly released publications and where events are taking place around the world.