UN-Water GLAAS 2010: Targeting resources for better results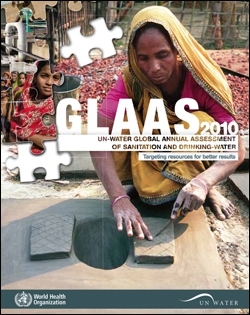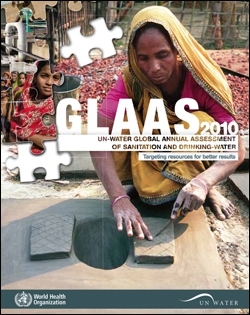 The Global Annual Assessment of Sanitation and Drinking-Water (GLAAS) is a UN-Water initiative implemented by the World Health Organization (WHO). The objective of UN-Water GLAAS is to provide policy makers at all levels with a reliable, easily accessible, comprehensive and global analysis of the evidence to make informed decisions in sanitation and drinking-water.
With over 2.6 billion people living without access to improved sanitation facilities, and nearly 900 million people not receiving their drinking-water from improved water sources, UN-Water GLAAS highlights where efforts stagnate in achieving the Millennium Development Goal Target 7.C.¬−to halve, by 2015, the proportion of people without sustainable access to safe drinking-water and basic sanitation. It also highlights the post-2015 challenges that need to be addressed by the United Nations system to collectively support its Member States.
The findings from the UN-Water GLAAS report were presented at the first annual High-Level Meeting of Sanitation and Water for All, hosted by UNICEF on 23 April 2010 in Washington, D.C. The High Level Meeting provided a forum for Ministers of Finance from developing countries, accompanied by Ministers responsible for sanitation and water, and representatives from donor countries to share in a dialogue that focused on steps to target donor aid and coordination, and enhance accountability and action on the ground.
The dialogue and information that emerged from the first GLAAS report also enhanced the understanding of linkages among water, sanitation, and economic growth, and promoted a culture of mutual accountability, partnership and shared responsibility.
UN-Water Publications
UN-Water's publications can be divided into two main groups: the publications that represent all Members and Partners of UN-Water – the collective products – and the publications that are under the UN-Water umbrella but produced by groups or individual UN-Water Members and/or Partners – the related products.