Celebration of World Water Day 2021 – Valuing Water
25 February 2021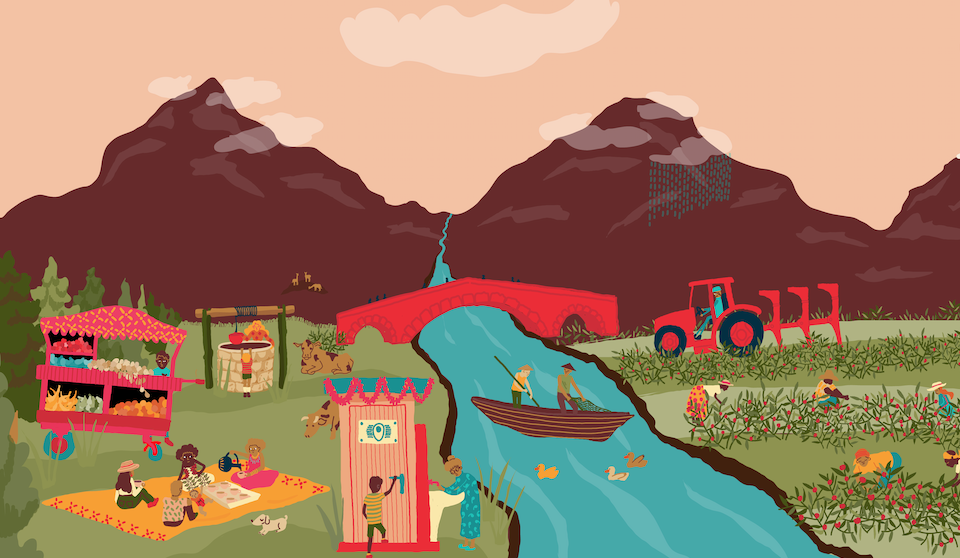 On 22 March, 2021, World Water Day will be celebrated in an online event. The World Water Day celebrates water and raises awareness of the global water crisis, and a core focus of the observance is to support the achievement of Sustainable Development Goal (SDG) 6: water and sanitation for all by 2030.
The theme of World Water Day 2021 is valuing water. The value of water is about much more than its price – water has enormous and complex value for our households, food, culture, health, education, economics and the integrity of our natural environment. If we overlook any of these values, we risk mismanaging this finite, irreplaceable resource. SDG 6 is to ensure water and sanitation for all. Without a comprehensive understanding of water's true, multidimensional value, we will be unable to safeguard this critical resource for the benefit of everyone.
On the day itself, the United Nations World Water Development Report is also released, focusing on the same topic as the campaign and recommending policy direction to decision makers.
Simultaneous interpretation will be available during the event in Arabic, Chinese, English, French, Russian and Spanish.
World Water Day 2021 – Valuing Water
High-Level Opening Ceremony
13:00 – 13:50
Master of Ceremony Ms. Sasha Koo-Oshima, Deputy Director, Land and Water Division, FAO
Welcoming address by Mr. QU Dongyu, Director-General, FAO
Opening address by Ms. Audrey Azoulay, Director-General of UNESCO (video message)
Opening address by Mr. Gilbert F. Houngbo, Chair, UN-Water and President of IFAD
Message from Special Guests
His Holiness Pope Francis (video message read by Cardinal Pietro Parolin, Secretary of State, Vatican City)
H.E. Mr. David Choquehuanca, Vice-president of the Plurinational State of Bolivia
H.E. Mr. Serigne Mbaye Thiam, Minister of Water and Sanitation of the Republic of Senegal
H.E. Ms. Marina Sereni, Vice Minister of Foreign Affairs and International Cooperation of the Republic of Italy (video message)
H.E. Mr. Jonathan Malagón González, Minister of Housing, Cities and Territory of the Republic of Colombia (video message)
Mr. Henk Ovink, Special Envoy International Water Affairs, The Kingdom of Netherlands (video message)
Presentation of the UN World Water Development Report 2021
13:50 – 14:00
Ms. Michela Miletto, Coordinator and Director, UNESCO WWAP
Interactive discussion – what does water mean to you?
14:00 – 14:22
Moderator Mr. Neil Dhot, Executive Director, Aquafed (UK)
Ms. Rasha Hassan, Governance Coordinator, Water Youth Network (Syria)
Euphresia Luseka, Water Governance Expert and Co-Lead Rural Water Supply network (RWSN) (Kenya)
Keynote listener Mr. Pedro Arrojo-Agudo, UN Special Rapporteur on the human rights to safe drinking water and sanitation (Spain)
Announcement of the winner of the Stockholm Water Prize
14:22 – 14:27
Mr. Torgny Holmgren, Executive Director, SIWI (Sweden) (video message)
Closing of the celebration
14:27 – 14:30
Ms. Maria Helena Semedo, Deputy Director-General, Climate and Natural Resources, FAO
The recording of the World Water Day 2021 celebration is now available here.
Contact Us
For media and interview requests, contact us on: unwater@un.org mentioning [Media request] in the subject heading.
News and Media
Get the latest news from UN-Water; Understand what is happening around the 2030 Agenda for Sustainable Development; Interact in our campaigns; Explore newly released publications and where events are taking place around the world.