UN World Water Development Report 2003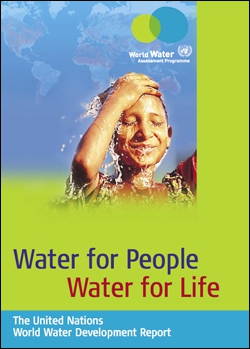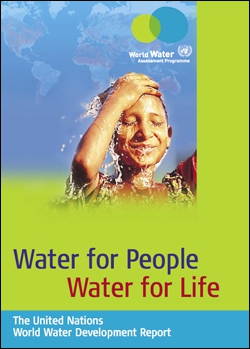 Water for People, Water for Life
UN WORLD WATER DEVELOPMENT REPORT
Coordinated by the World Water Assessment Programme (WWAP), the 1st edition of the United Nations World Water Development Report (UN WWDR1) was the result of the collaboration of twenty-three UN agencies and convention secretariats and laid the foundations for regular, system-wide monitoring and reporting by the UN, together with development of standardized methodologies and data.
The 1st edition of this report, Water for People, Water for Life, was launched on World Water Day (22 March 2003) at the 3rd World Water Forum in Kyoto, Japan.
UN WWDR1 is targeted to all those involved in the formulation and implementation of water-related policies and investment strategies, as well as to professionals at all levels. Although it offers a broad global picture, it focuses particularly on the situation in developing countries, where the need for better infrastructure and governance is highest. With this report, WWAP is aiming to show where systems are failing, and to provide the information needed for efficient and effective capacity-building throughout the world.
This 1st edition of the UN WWDR laid the foundation for subsequent editions, concentrating essentially on evaluating what progress has been made, and not made, since the Rio Summit and on developing effective assessment methodologies.
The Report encompasses a broad range of components, focusing on human stewardship of freshwater, that complex aggregation of policies, legislation, social programmes, economic approaches and management strategies through which we seek to achieve water sustainability.
UN-Water Publications
UN-Water's publications can be divided into two main groups: the publications that represent all Members and Partners of UN-Water – the collective products – and the publications that are under the UN-Water umbrella but produced by groups or individual UN-Water Members and/or Partners – the related products.
Related Links