WHO-UNICEF webinar: "Is your facility WASH FIT 2022?"
14 April 2022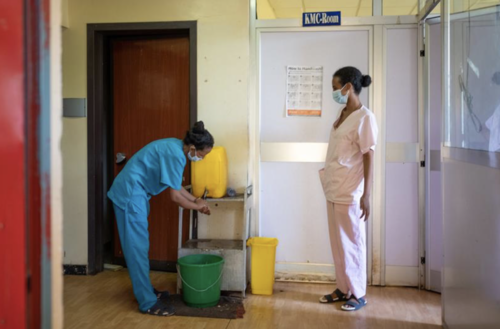 The World Health Organization (WHO) and UNICEF will run a webinar called "Is your facility WASH FIT 2022?" at 1pm CEST, on 26 April 2022.
Participants will hear about the new and updated 'WASH FIT' package, country examples of improvements when using WASH FIT, and plans for future implementation.
WASH FIT (Water and Sanitation for Health Facility Improvement Tool) is the risk-based management tool developed by UNICEF and WHO for health care facilities. It covers key aspects of water, sanitation, hand hygiene, environmental cleaning, health care waste management and selected aspects of energy, building and facility management.
The updated WASH FIT to be presented in the webinar focuses on building, upgrading and sustaining WASH and energy services that are climate resilient as well as being equitable and inclusive.
Contact Us
For media and interview requests, contact us on: [email protected] mentioning [Media request] in the subject heading.
News and Media
Get the latest news from UN-Water; Understand what is happening around the 2030 Agenda for Sustainable Development; Interact in our campaigns; Explore newly released publications and where events are taking place around the world.