Update on IMI-SDG6 results in 2019 and plans for 2020
10 February 2020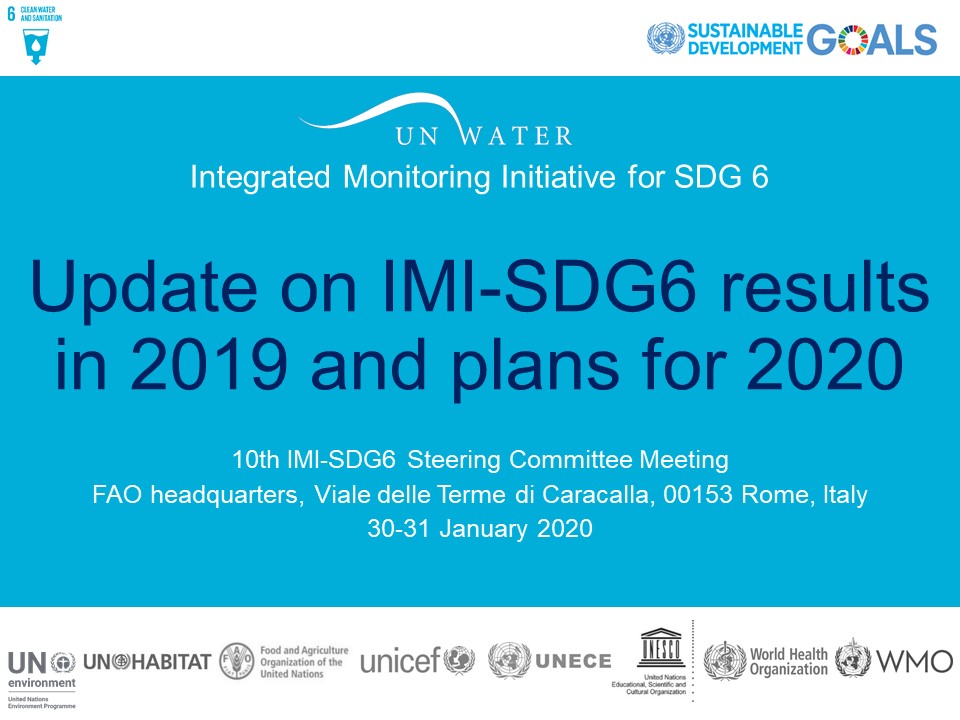 On 30-31 January, the IMI-SDG6 Steering Committee met to review 2019 results and plan for the 2020 work. UN-Water Members and Partners participated in part of the meeting, to provide input on the work ahead, including possibilities for collaboration.
In 2019, IMI-SDG6 focused largely on methodology refinement and preparing for the 2020 global data collection, with country data collection and validation carried out for seven of the indicators, and reports published for six of the indicators. Learn more about the 2019 results below and through the Steering Committee presentation (see 'Presentation' links to the right)
For 2020, the main focus is on the 2020 Data Drive, with country data collection on seven SDG 6 indicators. Learn more about the 2020 work through the Steering Committee presentation (see 'Presentation' links to the right) and the dedicated 2020 Data Drive page.
Key results in 2019
Most of the indicator methodologies underwent a thorough review and update, taking on board country feedback from Phase 1 and expanding on the need to disaggregate the data. SDG 6 global indicator 6.4.1 on water use efficiency was upgraded from tier II to tier I, due to data availability from a critical mass of countries. Overall for SDG 6, five of the SDG 6 global indicators are now classified as tier I, and the remaining six indicators as tier II.
To prepare for the second round of data collection in 2020 (for indicators 6.3.1 to 6.6.1), various capacity support tools were developed during 2019, including knowledge platforms, e-learning courses and instruction videos. International meetings were organised for two indicators, regional workshops for six indicators, and country missions for six indicators.
In terms of cross-cutting activities, the work in 2019 focused on expanding the network of overall and indicator-specific technical focal points in countries, and developing a database through which all these focal points can be easily updated and maintained by the respective custodian agencies. Linked to this database, the SDG 6 Country Focal Point Directory was also developed, to make available information to each country about all the focal points for SDG 6 monitoring in that country.
The SDG 6 Data Portal was launched in August 2019, following extensive user testing in April 2019. The portal was demonstrated in multiple events before and after the launch, including six webinars targeted to focal points, UN-Water Members and Partners and the general public. Its products were used to reach out to various audiences to inform about the status of SDG 6.
Contact Us
For media and interview requests, contact us on: unwater@un.org mentioning [Media request] in the subject heading.
News and Media
Get the latest news from UN-Water; Understand what is happening around the 2030 Agenda for Sustainable Development; Interact in our campaigns; Explore newly released publications and where events are taking place around the world.