State of the world's hand hygiene report launched on Global Handwashing Day
14 October 2021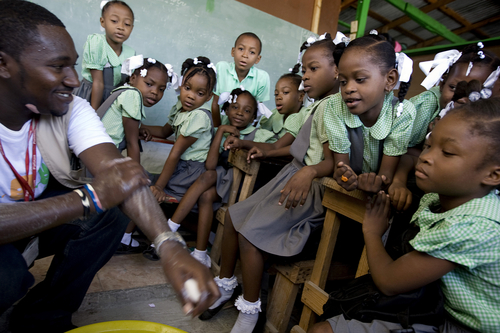 Global Handwashing Day, on 15 October, is the annual day dedicated to the importance of handwashing with soap as an effective and affordable way to prevent diseases and save lives.
The 2021 theme is 'Our Future is at Hand – Let's Move Forward Together'. The COVID-19 pandemic has made the world realize the critical importance of handwashing with soap. As the pandemic continues, urgent investment in better hand hygiene is needed to help society emerge from the shadow of COVID-19 and build a healthier and more resilient future.
Global Handwashing Day 2021 highlights the benefits of hand hygiene, such as:
Handwashing can reduce diarrhoeal diseases by 30 per cent.
Handwashing can reduce acute respiratory infections by up to 20 per cent.
Hand hygiene is protective against healthcare-associated infections and reduces the spread of antimicrobial resistance.
On the Global Handwashing Day website, you can find a factsheet, infographics and social media resources to help promote the campaign at #OurFutureatHand.
State of the World's Hand Hygiene report
In conjunction to the Global Handwashing Day, an interactive webinar is hosted on October 15th. The event marks the launch of the world's first State of the World's Hand Hygiene report.
The report is released by WHO and UNICEF, and is a global call to action to make hand hygiene a priority in policy and practice. This landmark report brings together the latest data on hand hygiene to present the sector's current status and highlight lagging progress, calls Member States and supporting agencies to action, and offers numerous inspiring examples of change across the SDG 6 accelerator themes.
Contact Us
For media and interview requests, contact us on: [email protected] mentioning [Media request] in the subject heading.
News and Media
Get the latest news from UN-Water; Understand what is happening around the 2030 Agenda for Sustainable Development; Interact in our campaigns; Explore newly released publications and where events are taking place around the world.