Monitoring WASH in health care facilities: 2018 JMP report
11 October 2018
Sustainable water, sanitation and hygiene (WASH) services in health care facilities (HCF) are critical for providing safe, quality health care. There is increasing recognition that many health care facilities, especially in low- and middle-income countries, lack even the most basic water, sanitation and hygiene services.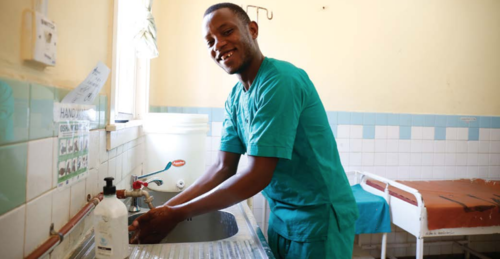 This lack of services compromises the ability to provide basic, routine services and the ability to prevent and control infections. Without WASH services in HCF, the global community will not reach the goal of universal access to WASH, or achieve a number of the health-related Sustainable Development Goals (SDGs), including universal health coverage, ending preventable newborn deaths and reducing maternal mortality.WHO/UNICEF JMP team have recently published recommended core questions and indicators for monitoring WASH in health care facilities. These can be used in facility surveys and health management information systems to gather data on drinking water, sanitation and hygiene services as well as health care waste management and environmental cleaning.
Contact Us
For media and interview requests, contact us on: [email protected] mentioning [Media request] in the subject heading.
News and Media
Get the latest news from UN-Water; Understand what is happening around the 2030 Agenda for Sustainable Development; Interact in our campaigns; Explore newly released publications and where events are taking place around the world.