Focus on National Leadership for Inclusive Water Governance: Call for Renewed Water Action and Commitments
13 March 2023
The side event will have countries call for enhanced water action and renewed commitments and explain their visions, including investment plans and frameworks for transformative water action following the UN 2023 Water Conference, to be followed by a panel discussion on how the international community in collaboration with the International High-Level Panel on Water Investments for Africa and other global organizations can support the realization of such visions.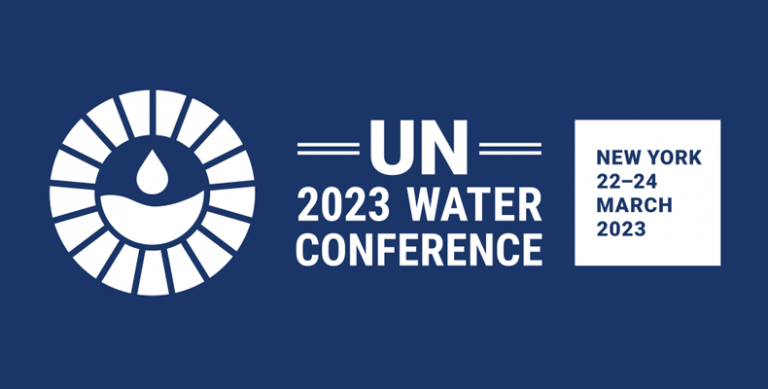 The event will focus on national leadership and provide an opportunity for countries/territories like Senegal, South Africa, Germany, Zanzibar, and Zambia which have been visionary in terms of progress in water governance and investments, to showcase their commitments, successes and lessons learned.
The panel discussion will include presentations of the Water Policy Group's survey for national water leaders (ministers, heads of water agencies, etc), the National Water Roadmaps led by FAO under the UN-Water umbrella, GWP's work in support of the AIP and interventions by countries globally and regions, OECD's work on water governance principles, the role of law makers in achieving water security and inclusive approaches in line with human rights perspectives.
Finally, the Global Water Tenure Dialogue led by FAO will be launched during the event. The Dialogue will shape principles on responsible governance of water tenure based on country level engagement, as a commitment to equitable access to water for sustainable livelihoods, food security and climate resilience.
Side event draft agenda
Moderation and welcoming remarks. Former President of Republic of Tanzania, HE President Kikwete - 5 minutes
Opening remarks and scene-setting by the host. Government of South Africa: Hon. Senzo Mchunu, Minister of Water and Sanitation, South Africa – 5 minutes
Commitments: National Leadership for Inclusive Water Governance. Call for Renewed Water Action presented by National government speakers – 20 minutes
High-level representative from Government of Senegal: Hon. Mr Serigne Mbaye THIAM, Minister of Water and Sanitation, Senegal – 5 min
High-level representative from Government of Germany H.E. Steffi Lemke, Minister for the Environment, Nature Conservation, Nuclear Safety and Consumer Protection – 5 min
High-Level representative from the Government of Zambia: Hon. Mike Mposha, Minister of water and Sanitation, Zambia – 5 min
High-Level representative from the Revolutionary Government of Zanzibar: Hon. Shaib Hassan Kaduara, Minister for Water, Energy and Minerals – 5 min
Floor contributors – 5 minutes
Panel discussion outlining the support from the international community – 25 minutes
Moderation: Alex Simalabwi, CEO of GWPSA, GWP
Olcay Ünver, Water Policy Group and Arizona State University – 3 minutes
Launch of the Global Dialogue on Water tenure: Sasha Koo-Oshima, Deputy Director Land & Water Division, FAO, with Jessica Troell, Environmental Law Institute - 5 minutes
Aziza Akhmouch, Head of Division Cities, Urban Policies and Sustainable Development, Centre for Entrepreneurship, SMEs, Regions and Cities, OECD - 3 minutes
Lesha Witmer, Women for Water Partnership - 3 minutes
OHCHR representative: ASG for Human Rights; Special Rapporteur on the rights to water and sanitation, Pedro Arrojo-Agudo; or Rio Hada – 3 minutes
IWMI representative – 3 minutes
Joint FAO, UNDP, UNICEF intervention as co-coordinators of the UN-Water Task Force on Country Level Engagement on behalf of the Task Force - 5 minutes
Floor contributors – 5 minutes
Q&A – 5 minutes
Call for Action and Closing - Hon. Senzo Mchunu, Minister of Water and Sanitation, South Africa - 5 minutes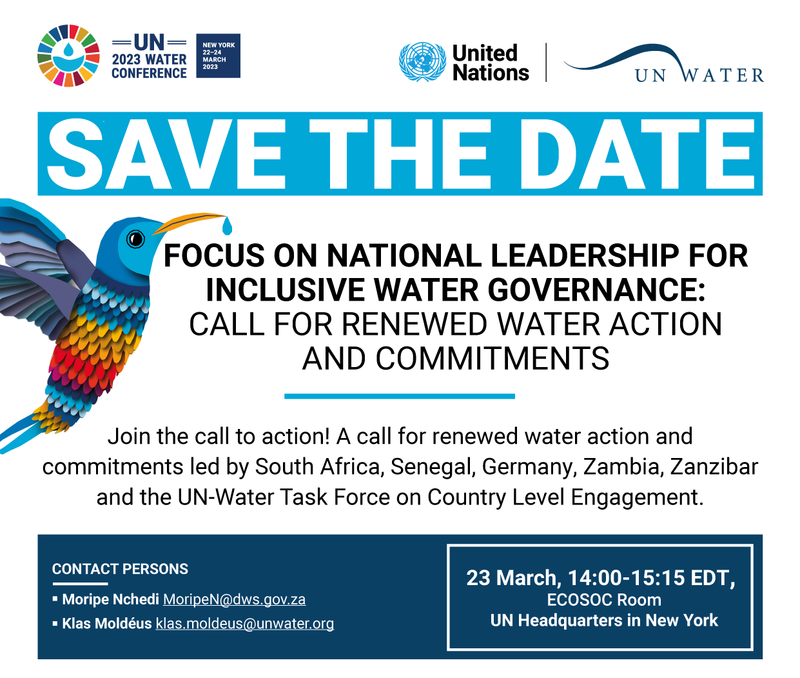 Contact Us
For media and interview requests, contact us on: unwater@un.org mentioning [Media request] in the subject heading.
News and Media
Get the latest news from UN-Water; Understand what is happening around the 2030 Agenda for Sustainable Development; Interact in our campaigns; Explore newly released publications and where events are taking place around the world.