Side-event on 'Climate-resilient water management approaches' at COP25
UN-Water
19 December, 2019
On 10 December 2019, the UN-Water Expert Group on Water and Climate, organised the side event "Climate-resilient Water Management Approaches" at the twenty-fifth session of the Conference of the Parties (COP25) to the United Nations Framework Convention on Climate Change (UNFCCC) in Madrid.
The side event was opened by speeches of Mr. Liu Zhenmin, Under-Secretary-General for the United Nations Department of Economic and Social Affairs, and Mr. Peter Thomson, United Nations Secretary-General's Special Envoy for the Ocean.
Mr. Olcay Ünver, Vice-Chair of UN-Water, welcomed all participants and speakers as the Master of Ceremony. They stressed the crucial role of water for achieving the Sustainable Development Goals and the need to take a source-to-sea approach.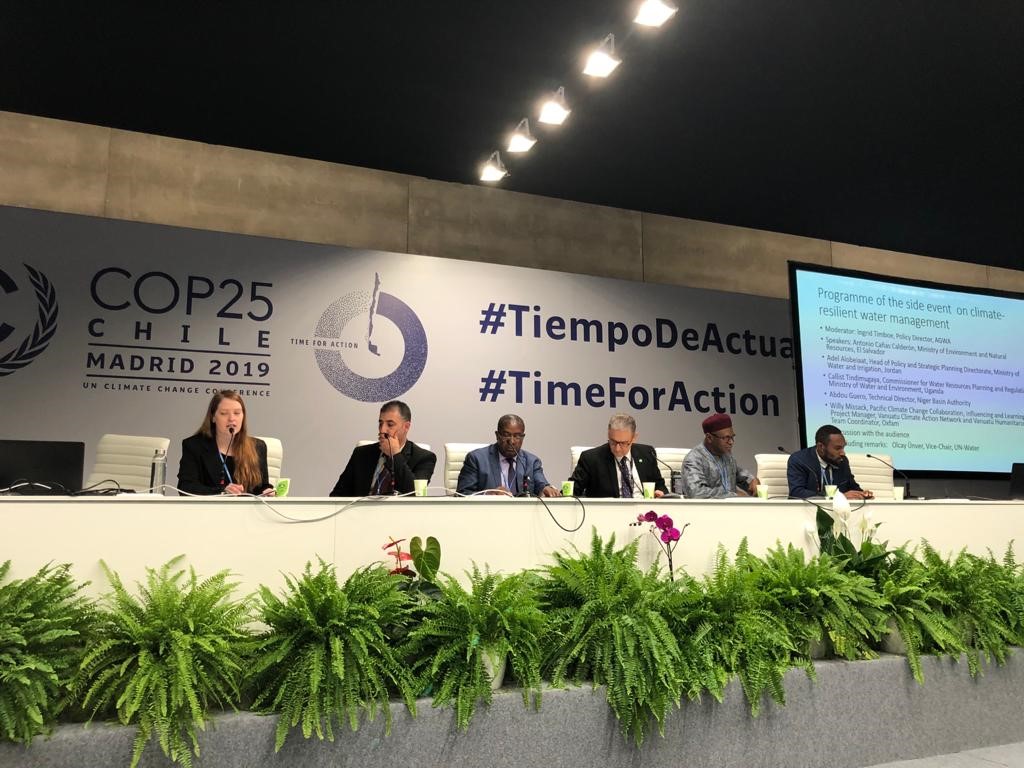 The event featured a panel discussion with representatives of national and basin authorities as well as civil society from El Salvador, Jordan, Uganda, the Niger Basin Authority and the Vanutau Youth Network, focusing on the key findings of the recently launched
UN-Water Policy Brief on Climate Change and Water
and country-specific case studies. Participants acknowledged the crucial role of integrated approach to climate change and water management for successful implementation of the 2030 Agenda, the Sendai Framework and the Paris Agreement, as highlighted in the Policy Brief. To increase cross-sectoral cooperation necessary for achieving climate resilience, efforts should be made to strengthen the collaboration between communities working on water, biodiversity, climate change, agriculture, energy and oceans. Transboundary cooperation is necessary for successful adaptation. Moreover, panellists agreed that water-related mitigation and adaptation interventions should be appropriately included in nationally determined contributions (NDCs). They also highlighted the importance of climate finance for water resource management for improving sustainable development outcomes. Finally, social inclusion in water management was debated, emphasizing that involving local population, particularly youth, is crucial for successful adaptation. To this end, increased investment is needed in improving education and capacity development.
To strengthen the integration of water in the climate agenda, the upcoming World Water Day on 22 March 2020 with the topic climate and water will provide a much needed opportunity to call upon the global community to engage in efforts on water and climate jointly. UN-Water expressed its full and lasting commitment to support countries and basins in their efforts to better integrate water into climate-related plans and programmes.
Available presentations for download:
Mr. Adel Alobeiaat (Head of Policy and Strategic Planning Directorate, Ministry of Water and Irrigation, Jordan) English
Dr Callist Tindimugaya (Commissioner for Water Resources Planning and Regulation, Ministry of Water and Environment, Uganda) English
The side-event was organized by UNESCO (lead), UNECE, WMO, UNDP, UNU-INWEH, UNCCD, ESCWA, SIWI, AGWA, WWC, GWP, FWP, ILO, WHO, IOM, OHCHR, UNICEF, CBD, IWMI, UN – HABITAT, RAMSAR, IAHS