UN-Water's campaigns
Every year, UN-Water coordinates the United Nations international observances on freshwater and sanitation. Depending on the official UN theme of the campaign, they are led by one or more UN-Water Members and Partners with a related mandate. On World Water Day, UN-Water releases the UN World Water Development Report focusing on the same topic as the campaign.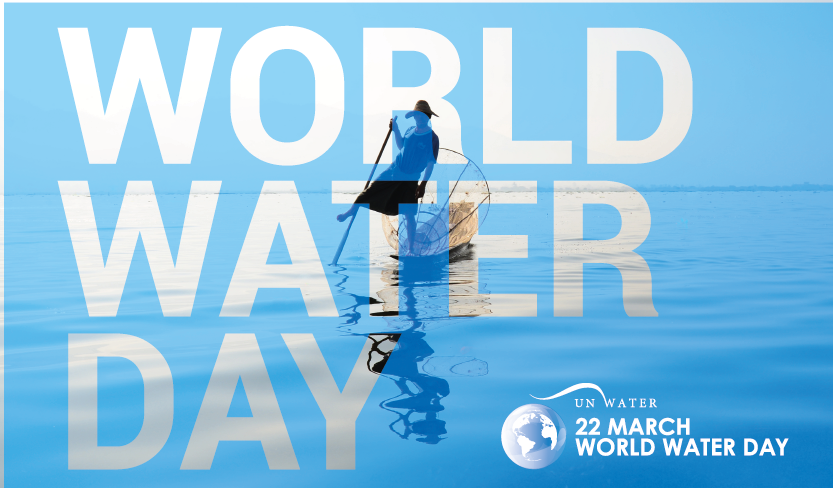 World Water Day is about taking action to tackle the water crisis. Today, 2 billion people use a source of drinking water contaminated with faeces, putting them at risk of contracting cholera, dysentery, typhoid and polio.
World Toilet Day is a day to tackle the global sanitation crisis – a topic often neglected and shrouded in taboos. Today, 3.6 billion people are struggling to stay well, keep their children alive and work their way to a better future – all for the want of a toilet.
Everyone has a role in solving the water and sanitation crisis.
By recording and sharing actions we can review progress and use the latest evidence on what works, learn quickly from failure and adapt to changing realities. Take action here.
In response to the ambitious 2030 Agenda, the Water Action Decade will accelerate efforts towards meeting water-related challenges, including limited access to safe water and sanitation, increasing pressure on water resources and ecosystems, and an exacerbated risk of droughts and floods.
Official themes and previous campaigns
2022: World Water Day and World Toilet Day – Groundwater – Coordinators: UNESCO, IGRAC. Task Force: FAO, IAEA, IAH, IRC, IWA, IWMI, IWRA, OHCHR, RWSN, SIWI, UNDP, UN ECE, UNEP, UN ESCWA, UNICEF, WaterAid, WEF, WMO, and World Water Council.
2021: World Water Day – Valuing water – Coordinators: FAO, Aquafed, PSI Task Force: IFAD, ILO, OHCHR, UNDESA, UNESCO, UN Habitat, UNICEF, WHO, UN Global Compact, SWA, GWP, IWMI, Water.org, WfWp, Government of the Netherlands | World Toilet Day – Valuing Toilets – Coordinators: UNICEF, WHO, Task Force: FAO, ILO, IOM, OHCHR, UNDP, UN Women, UN Global Compact, SWA, Aquafed, CAWST, IHE Delft, IRC WASH, IWMI, WaterAid, WWF.
2020: World Water Day – Climate Change – Coordinators: WMO, UNECE, UNESCO, Task Force: FAO, GWP, IRC, UNESCO IHP, UNESCO WWAP, UNICEF | World Toilet Day Coordinators: WMO, UNECE, UNESCO Task Force: UNICEF, WHO, WaterAid, World Toilet Organization, WSSCC,
2019: World Water Day – Leaving No One Behind (Human Rights and Refugees) | World Toilet Day – Coordinators: OHCHR, UNHCR, Task Force: Aquafed, UN Global Compact, FAO, ILO, SWA, UCLG, UNCCD, UNDP, UNESCO, UN Habitat, UNICEF, UNU, UN Women, Water Lex, WSSCC
2018: World Water Day – Nature for Water – Coordinators: CBD, UN Environment, UNESCO | World Toilet Day – When nature calls – Coordinators: WSSCC,UNDP,UNICEF UNU, WHO, ILO | Water Action Decade
2018: Launch of the Water Action Decade 2018-2028
2017: World Water Day – Wastewater | World Toilet Day – Wastewater – Coordinators: UNEP, UN Habitat, UNU, WHO
2016: World Water Day – Water and Jobs | World Toilet Day – Toilets and Jobs – Coordinator: ILO
2015: World Water Day – Water and Sustainable Development – Coordinator: UNDP | World Toilet Day – Toilets and Nutrition – Coordinator: UNICEF
2014: World Water Day – Water and Energy – Coordinators: UNIDO, UNU | World Toilet Day – Equality and Dignity – Coordinators: UNU, UN Habitat
2013: World Water Day – Water Cooperation – Coordinator: UNESCO
2012: World Water Day – Water and Food Security – Coordinator: FAO
2011: World Water Day – Water for Cities – Coordinator: UN Habitat
2010: World Water Day – Water Quality
2009: World Water Day – Transboundary Waters – Coordinators: FAO, UNECE, UNESCO
2008: World Water Day – International Year of Sanitation – Coordinator: UNDESA
2007: World Water Day – Water Scarcity – Coordinator: FAO
2006: World Water Day – Water and Culture – Coordinator: UNESCO
2005: World Water Day – Water for Life 2005-2015
2004: World Water Day – Water and Disasters – Coordinators: UNISDR, WMO
2003: World Water Day – Water for the Future – Coordinator: UN Environment
2002: World Water Day – Water for Development – Coordinator: IAEA
2001: World Water Day – Water for Health, Taking Charge – Coordinator: WHO
2000: World Water Day – Water for the 21st Century – Coordinator: UNESCO
1999: World Water Day – Everyone lives downstream – Coordinator: UN Environment
1998: World Water Day – Groundwater, the invisible resource – Coordinators: UN DESA, UNICEF
1997: World Water Day – The World's Water, Is There Enough? – Coordinator: WMO, UNESCO
1996: World Water Day – Water for Thirsty Cities Coordinator: UN Habitat
1995: World Water Day – Women and Water
1994: World Water Day – Caring for Water Resources is Everybody's Business