UN-Water Global Analysis and Assessment of Sanitation and Drinking-Water (GLAAS)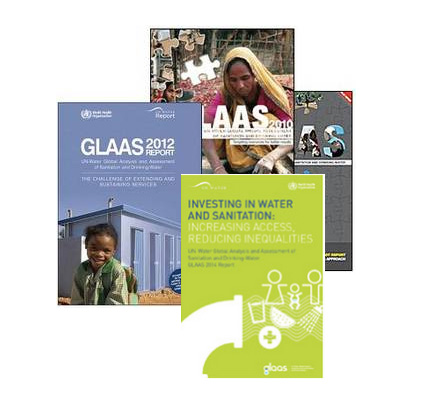 The objective of  the UN-Water Global Analysis and Assessment of Sanitation and Drinking-Water (GLAAS) is to provide policy- and decision-makers at all levels with a reliable, easily accessible, comprehensive and global analysis of the investments and enabling environment to make informed decisions for sanitation, drinking-water and hygiene.
With 2.4 billion people living without access to improved sanitation facilities, and nearly 700 million people not receiving their drinking-water from improved water sources, GLAAS highlighted where efforts stagnated, and excelled, in achieving the Millennium Development Goal Target (MDG) to halve the proportion of people without sustainable access to safe drinking-water and basic sanitation by 2015.
With the Sustainable Development Goals (SDGs), GLAAS continue to provide information on investments and the enabling environment with a specific focus on monitoring Targets 6a and 6b:
By 2030, expand international cooperation and capacity-building support to developing countries in water- and sanitation-related activities and programmes, including water harvesting, desalination, water efficiency, wastewater treatment, recycling and reuse technologies.
Support and strengthen the participation of local communities in improving water and sanitation management.
The UN-Water GLAAS is produced by the World Health Organization (WHO) on behalf of UN-Water and is published every two years. GLAAS is part of the UN-Water Integrated Monitoring Initiative for SDG 6. One of the flagship products of the initiative is the SDG 6 Data Portal, which brings together data on all the SDG 6 global indicators and other key social, economic and environmental parameters, and tracks overall progress towards SDG 6 at global, regional and national levels: www.sdg6data.org 
The latest GLAAS report, published in 2019, builds on the GLAAS 2017 report, where finance continues to be a major theme of the report.